The 2nd annual GROW Conference is upon us again this year. I had a great time last year meeting some amazing and talent VCs, Entrepreneurs, and Techies. This year, a new addition to the Conference is the competition for Canadian startups to Launch @ GROW. 15 Finalists were selected to be at Launch night, and 4 companies will be picked to demo on stage at the GROW Conference. Exciting times for Canadian startups!
Over the next few days, I'll be interviewing some Canadian Startups, event Organizers and Presenters. I will be focussing on the experience as Canadians working in Canada based Startups or working in the Tech or VC business in  Silicon Valley or New York.
Location: Vancouver Convention Center – West Building
1055 Canada Place – 3rd Floor
Vancouver, BC, V6C 0C3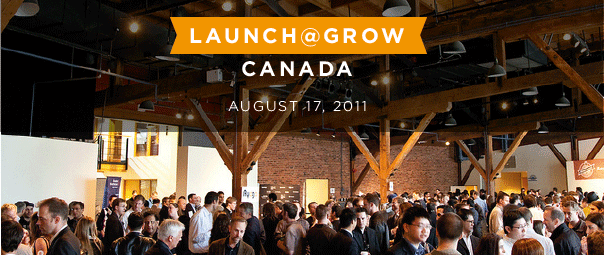 The Growlab judges have chosen the 15 Finalists to demo their startups at Launch @ GROW on August 17th.
Congratulations and good luck to all of the companies.
Launch @ GROW's 15 Finalists:
Hoseanna – Serving Busy Women Everywhere
Rocketr – Social Notetaking
Tiipz – A Social Platform for Micro Research
ToggleMe with Tradable Bits Platform
Unbounce – DIY Landing Pages
Warranty Life – Manage all your purchases & warranties for free