Earth day 2013. It's a special day in our household, because we like to think we do our bit to save the planet. It's become a more important event after becoming a first time dad in 2011.
We make sure our daughter eats mostly organic food and we eat a vegetarian diet. We recycle and upcycle. I ride my bike everywhere and my partner takes the bus to her school. We have a baby seat to carry our daughter on longer trips. I was raised a hippie kid, so this was how I was brought up and it's how I'd like to raise my daughter.
Our daughter happily listens to us read her kid's "green start" books about the planet like "One tree" and "The five senses". She looks beautiful in her specially picked used clothing. She is happy to play with her wooden toys. Yet despite the mostly eco friendly lifestyle, I'd still call myself a cynic. While watching 12 year old Ta'Kaiya Blaney sing about "Earth Revolution" at the Grandview park, I was reminded of my cynicism which contrasted to the optimism and hope of the young girl on stage.
In the moment of hearing her beautiful and powerful voice, I was moved to learn more about this young girl. Admittedly while watching her sing and speak, I was more impressed with her voice than her wisdom, which I learned later was considerable.
Spontaneously I approached her parents and we arranged an interview in the park. I knew nothing about Ta'Kaiya Blaney except what I'd seen of her on the stage, so primarily I thought I'd interview her to explore the "youth" angle in a story about Earth day. Little did I know that I'd be left moved by hearing her speak so clearly and wisely about the importance of Earth day and already worldly experiences speaking and attending global events such as the TUNZA UN children and youth conference on the Environment in Indonesia, and the Rio+20 UN conference on the Environment In Rio de Janiero.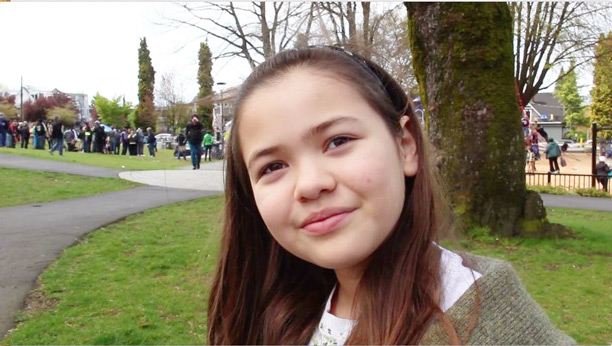 We started the interview by talking about the song she wrote called "Shallow waters" about the Northern pipeline proposed by the Enbridge corporation. The song is a story "about a future where the crude oil spills onto the lands, onto the many cultures of BC, onto the waters, onto the animals, and onto the ecosystems, and it reminds of what's at stake and what can be lost" A few of the lyrics from the song are "In shallow waters I used to see, Dolphins playing in front of me, Seaweed swaying, keeping time, Tidal rhythms laugh not cry" 
How is a twelve year old so interested in the environment and so passionate about the planet? In her mind, it was from how she was raised as a child. She spoke of her mother taking her at age two down to the river, and dipping her toes into glacier cold water. Ta'Kaiya was able to experience lush and beautiful, and pristene environments growing up. She was aware even as a young child, of what was lost in her environment and her culture and has grown up around these environmental and cultural issues. There was always a connection to the environment and a empathy to the environment, because it was her playground and her home.
Was it inspiring to be able to travel around the world to events, conferences, and learn about different cultures? Can one meet other kids with the same passion and wisdom? Ta'Kaiya went to the Rio Summit with the ( IEN ) Indigenious Environmental Network and Clayton Thomas and Ruben George. She met with many other Indigeneous people who have traveled world wide are facing similar problems in their territory, such as Squamish and Haida Gwaii nation, and Gitxsan people. Hearing people share their songs, stories has inspired Ta'Kaiya.
At the end of our interview, Ta'Kaiya spoke poignantly about Earth day. While singing she was "saw smiling faces, faces full of love and full of passion and that's a great thing to see. We're not fighting in sense where we're bringing out our axes, we bring out our shields. We're fighting in a sense that we are defending the land, and defending our mother Earth. To see these faces out in the audience is a very inspiring thing"
A few words from her song "Environment Revolution" ( by Ta'Kaiya Blaney and Aileen De La Cruz )
Let's go the distance
We are a million voices strong
Facing resistance
But there's a choice between right and wrong
Pre Chorus
Oh oh stop waiting til tomorrow
Stop living yesterday
Cause there won't be a tomorrow
If we don't change today